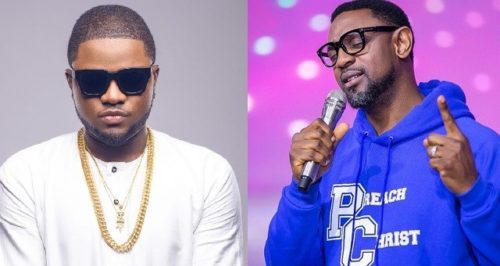 Skales has called out Pastor Biodun Fatoyinbo, the founder of Common Wealth of Zion Assembly (COZA) over the alleged rape saga between the 'man of God' and Timi Dakolo's wife; Busola.
The singer took to his Twitter page hours ago to blast the pastor, calling him a "fake man of god" as well as ridicule his church. Skales called the church a bully after news of the pastor sending police to Timi Dakolo's house yesterday to get his wife arrested surfaced on the internet.
Skales wrote; "Total example of a church dat bullies the public  @cozaglobal and the scam of a pastor…. Gucci scam pastor… I Stand against that pastor fatoyinbo biodun stop lying with the word of God using gov. Connection to bully people .. Coza no be church na scam smh. ok I'm done."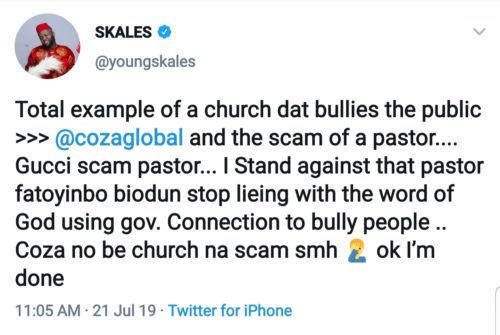 He also added, "Commonwealth of Zion Assembly. see name of church it's the end time for real Coza Chrch na scam …. baba don order Gucci wey him go use today's offering go buy."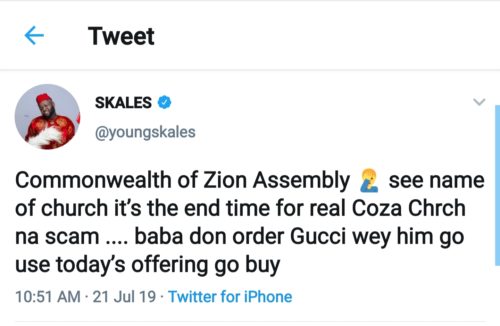 You all would recall we brought you news about Timi Dakolo raising an alarm on his Instagram page yesterday after police stormed his house to try to whisk himself and his wife to Abuja on account that Pastor Fatoyinbo has levelled some allegations towards them.
This has however made a lot of celebrities furious as to why the pastor would take such action even when he hasn't answered to the allegations levelled against him by Busola that he raped her about 2 decades ago.
This could be the major reason Skales has decided to try to 'tear apart' the pastor, expressing his anger in the most daring manner.
This however is looking to be a wrong move for Skales as social media users have started to lambaste him for making such move when it has not been established that the pastor truly did what Busola accused him of. Some have opined that Skales showed a lack of sensitiveness as even though criticism of the pastor to a large extent is allowed, he could have been constructive about it or be intelligent about the process.